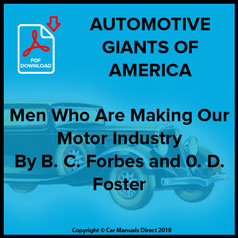 AUTOMOTIVE GIANTS OF AMERICA Men Who Are Making Our Motor Industry
---
FREE PDF DOWNLOAD
PLEASE NOTE:
To receive the free PDF download for this item, you are still required to go through our shopping cart. You will be required to enter your email address and other details in the shopping cart form, then click on the button "continue to payment method". You will then be directed to a page that shows the item is free and your download link will be displayed. You will also receive an email with the download link.
AUTOMOTIVE GIANTS OF AMERICA Men Who Are Making Our Motor Industry BY B. C. FORBES AND 0. D. FOSTER
Curiously, although our automobile industry is young, its leaders are not young men. The average age of the twenty foremost is a shade under fifty-five. Only three of them are in the forties.

Every one of the twenty is self-made. Most of them had only a moderate amount of schooling. Nine had some college training.
Few of them started life in any mechanical or engineering line of work. Office boys lead. Grocery boys and farm boys are well represented.

Not one of the twenty comes from the Far-West. The East and the Middle-West gave birth to most of them, although the South can claim three. Ohio produced four, New York three and Michigan three.

Only one was not born in America, a record probably not matched by any other industry of first importance. The following table gives the name, the birthplace, the age, the first job and the schooling of each of the twenty whose careers are narrated in this book.
Harry H. Bassett
Roy D. Chapin
Walter P. Chrysler
William C. Durant
Albert R. Erskine
Harvey S. Firestone
Henry Ford
Charles D. Hastings
Frederick J . Haynes
John Hertz
Edward S. Jordan
Charles F. Kettering
Alvan Macauley
Charles S. Mott
Charles W. Nash
R. E. Olds
Alfred P. Sloan, Jr
H. H. Timken
Walter C. White
John N. Willys
---
Share this Product
---
More from this collection