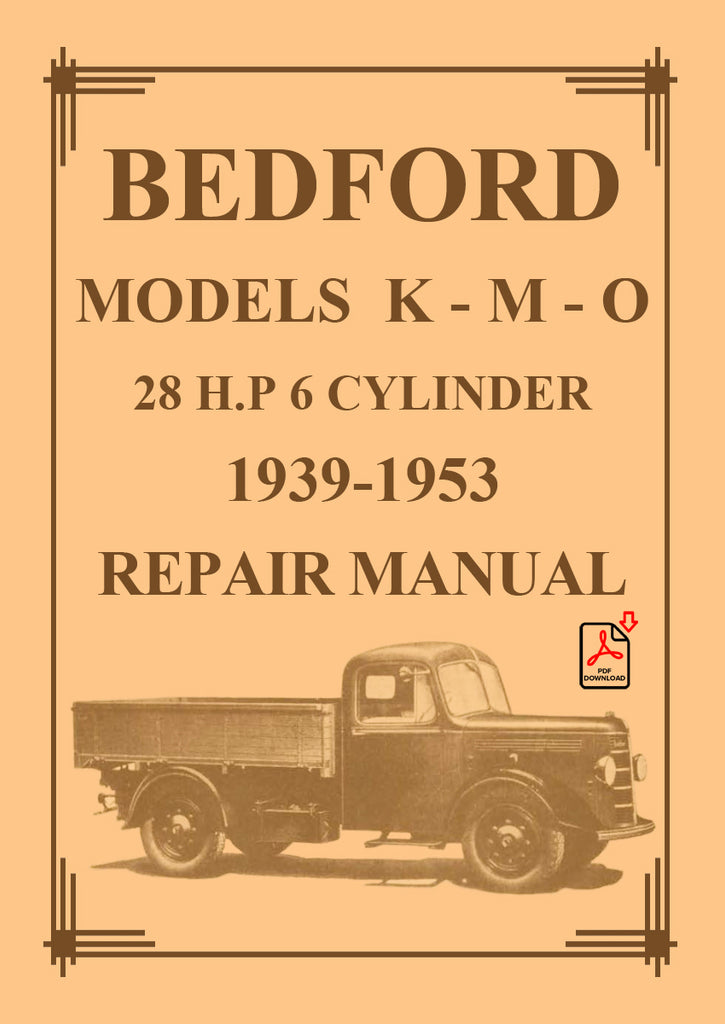 BEDFORD - Models K - M - O Series - 1939-1953 - Comprehensive Factory Workshop Service Manual | PDF Download
---
BEDFORD - Models K - M - O Series - 1939-1953 - Comprehensive Factory Workshop Manual - PDF Download 

Full details and description below
BEDFORD - Models K - M - O Series - 1939-1953 - Comprehensive Factory Workshop Manual - PDF Download 

This manual covers the following Bedford models K-M-O made between 1939-1953. 

Model K

KZ Chassis Only
KC Chassis with Cab
KD Dropside Truck
KV Van

Model M

MSZ Chassis Only
MSC Chassis with Cab.
MSD Dropside Truck
MST Tipper Truck
MLZ Chassis Only
MLC Chassis with Cab
MLD Dropside Truck

Model O

OSAZ Chassis Only
OSAC Chassis with Cab
OSAT End Tipper Truck
OLAZ Chassis Only
OLAC Chassis with Cab
OLAD Dropside Truck
OSBZ Chassis Only
OSBC Chassis with Cab
OSBT End Tipper Truck
OLBZ Chassis Only
OLBC Chassis with Cab
OLBD Dropside Truck
OSS Articulated Tractor Unit Chassis with Cab
OB Bus and Coach Chassis Only
Below is a detailed list of topics covered in the Bedford Workshop Manual: 
General Description of Vehicles

Specification

Operating Instructions


General Maintenance

Engine Mechanical 28hp 6 cylinder OHV


Engine Lubrication System

Petrol System

Cooling System

Ignition System

Clutch

Gearbox

Propeller Shaft

Rear Axle

Front Axle

Steering Gear

Brakes

Chassis Frame

Road Springs

Road Wheels and Tyres

Electrical Equipment

Body

Bedford- Scammel Equipment

Special Tools
File Format: PDF 
Language: English 
Print: Print the complete manual or just the pages you require  
Bookmarked: Bookmarked for easy navigation
Requirements: We recommend using Adobe PDF Reader for best results 
Device: We recommend downloading to a PC or Laptop or visit our Download Help Page for further information regarding Smart Devices

Images are Copyright©Car Manuals Direct and are used for promotional purposes only.
Copyright©Car Manuals Direct 2018
---
Share this Product
---
More from this collection