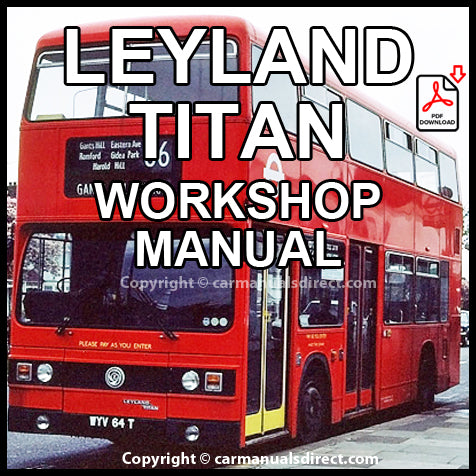 Leyland Titan Bus Factory Workshop Manual | PDF Download
---
Leyland Titan Bus Factory Workshop Manual | PDF Download
Leyland Titan Bus Factory Workshop Manual | PDF Download
Factory Leyland Titan Workshop Manual. This detailed workshop manual comes as a PDF download. Covers removal, repair and/or overhaul and refit of components. 
The following Leyland models are covered by this manual:
Below is a comprehensive list showing contents of the workshop manual:
Engine

POWER UNIT REMOVAL, OVERHAUL AND REFITMENT
COOLING SYSTEM
COOLING FAN DRIVE
THROTTLE CONTROL VALVE
THROTTLE ACTUATOR
HYDRAULIC PUMPS
AIR COMPRESSOR

TRANSMISSION

PROPELLER SHAFT
HYDRACYCLIC GEARBOX WITH ANGLE DRIVE
ELECTRO-HYDRAULIC VALVE BLOCK

STEERING AND FRONT SUSPENSION

Steering Column. Angle Drive Box,
Relay Shaft and Universal Joints.
Torque Tightening Figures

BRAKES

GENERAL INFORMATION
ACCUMULATOR. with non-return valve
ACCUMULATOR, with cut-out valve
BRAKE ASSEMBLIES
SLACK ADJUSTERS (S.A.B. Automatic type)
HAND VALVE
HYDRAULIC PUMP
FRONT WHEEL CYLINDER
PEDAL VALVE
PEDAL VALVE, L.T.E. type only
GAUGE FITTING
SPRING BRAKE UNIT
RELEASE VALVE
LOW-PRESSURE SWITCHES
NON-RETURN VALVE (Line mounted}
SHUTTLE VALVE

ELECTRICAL

ELECTRICAL SYSTEM
BATTERIES
MISC EQUIPMENT
INSTRUMENTS
ENGINE COMPARTMENT VENTILATION
RELAYS
CIRCUIT BREAKERS
SALOON INTERIOR LIGHTING
AUTOMATIC TRANSMISSION CONTROL
HEATING AND VENTILATION SYSTEM
ENGINE FIRE PROTECTION SYSTEM

AIR SYSTEM

SUSPENSION
SHOCK ABSORBERS

BODY

GLAZING
SEATS AND STANCHION RAILS
DOORS
WINDSCREEN WIPERS AND WASHERS
File Format: PDF 
Language: English 
Print: Print the complete manual or just the pages you require  
Bookmarked: Bookmarked for easy navigation
Requirements: We recommend using Adobe PDF Reader for best results 
Device: We recommend downloading to a PC or Laptop or visit our Download Help Page for further information regarding Smart Devices
Images are Copyright©Car Manuals Direct and are used for promotional purposes only.
Copyright©Car Manuals Direct 2018
---
Share this Product
---
More from this collection