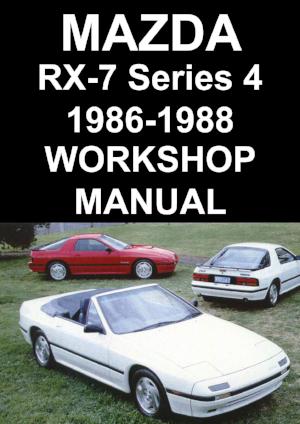 MAZDA RX7 Series 4 1986-1988 Comprehensive Workshop Service Manual | PDF Download
---
MAZDA RX7 Series 4 1986-1988 Workshop Manual | PDF Download
MAZDA RX7 Series 4 1986-1988 Workshop Manual | PDF Download
With easy step by step instructions for the home workshop mechanic or professional technician.
This Workshop Manual is for the following Mazda models made between 1986-1988:
Mazda RX-7 Series 4 Coupe
Mazda RX-7 Series 4 Convertible
Turbo and Non Turbo Engines
The following is a list of information contained in this Mazda RX 7 Repair Manual. All sections show how to remove, repair and replace the parts with full easy to follow descriptions and detailed diagrams.
General Information
Pre Delivery Inspection and Scheduled Maintenance Services
Engine
Fuel and Emission Control System (both Turbo and Non Turbo models)
Lubrication System
Cooling System
Electrical System (Engine)
Clutch
Manual Transmission
Automatic Transmission
Propeller Shaft
Rear Axle
Steering Systems (Manual and Power)
Brake System
Wheels and Tires
Suspension
Body
Electrical System (Body)
Technical Data
Special Tools
Wiring Diagrams
File Format: PDF 
Language: English 
Print: Print the complete manual or just the pages you require  
Bookmarked: Bookmarked for easy navigation
Requirements: We recommend using Adobe PDF Reader for best results 
Device: We recommend downloading to a PC or Laptop or visit our Download Help Page for further information regarding Smart Devices
Images are Copyright©Car Manuals Direct and are used for promotional purposes only.
Copyright©Car Manuals Direct 2018
---
Share this Product
---
More from this collection