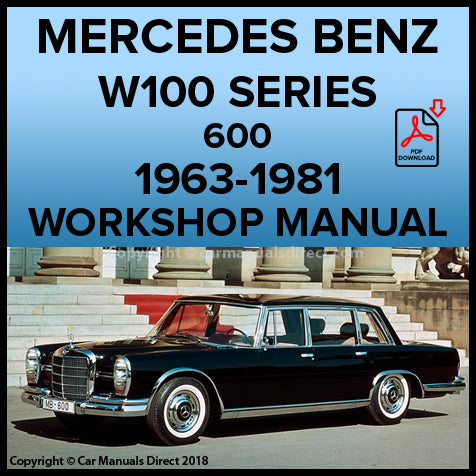 MERCEDES BENZ W100 Series 600 1963-1981 Comprehensive Workshop Service Manual | PDF Download
---
MERCEDES BENZ W100 Series 600 1963-1981 Factory Workshop Manual | PDF Download
MERCEDES BENZ W100 Series 600 1963-1981 Factory Workshop Manual | PDF Download
This Mercedes Benz W100 Workshop Manual is a comprehensive workshop manual, fully bookmarked for easy navigation in PDF format.
With easy, step by step instructions, this manual is suitable for the home workshop mechanic or professional technician to help you maintain, repair or restore your Mercedes Benz.
This Mercedes Benz Workshop Manual is suitable for the following Mercedes Benz models manufactured between 1963 - 1981: 
Type 600 W100 Series: The Grand Mercedes
Below is a detailed list of topics covered in this Mercedes Benz Manual: 
Introduction
General Technical Data
Engine
Timing
Injection System
Air Filter
Air Compressor and High Pressure Oil Pump
Induction Manifold and Exhaust Manifold
Engine Lubrication
Cooling Units in Engine
Engine Suspension
Finger-Tip Control Hydraulic Pump and Vee-Belt Drive
Automatic DB Transmission
Control Adjustments
Springs and Shock Absorbers
Front Axle
Rear Axle
Wheels and Adjustment of Wheels
Propeller Shaft
Brakes
Steering Assembly
Fuel System
Radiator
Electrical Equipment and Instruments
Windows
Coverings
Front and Rear Doors
Rear Compartment Lid
Master-Lock Control System
Finger-Tip Hydraulic System
Heating, Ventilation and Cooling System
Front and Rear Seats
Seat Accessories
Technical Data
 This Factory Workshop Manual does not include engine information.
File Format: PDF 
Language: English 
Print: Print the complete manual or just the pages you require  
Bookmarked: Bookmarked for easy navigation
Requirements: We recommend using Adobe PDF Reader for best results 
Device: We recommend downloading to a PC or Laptop or visit our Download Help Page for further information regarding Smart Devices
Images are Copyright©Car Manuals Direct and are used for promotional purposes only.
Copyright©Car Manuals Direct 2018
---
Share this Product
---
More from this collection