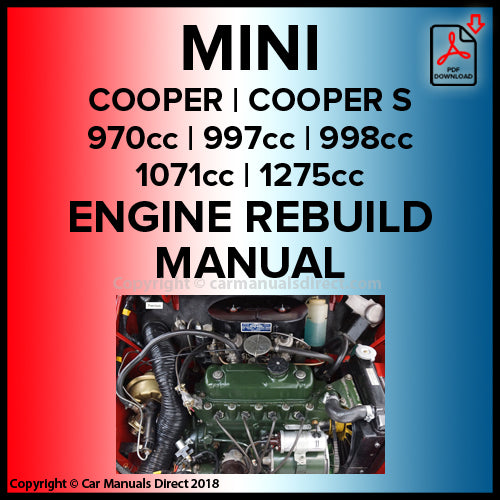 MINI Cooper & Cooper 'S' 970cc, 997cc, 998cc, 1071cc, 1275cc Factory Engine Rebuild Manual | PDF Download
---
MINI Cooper & Cooper 'S' 970cc, 997cc, 998cc, 1071cc, 1275cc Factory Engine Rebuild Manual | PDF Download
Full details and description below
MINI Cooper & Cooper 'S' 970cc, 997cc, 998cc, 1071cc, 1275cc Factory Engine Rebuild Manual | PDF Download
This Mini Cooper Engine Rebuild Manual is for the following Mini Cooper Engines manufactured between 1961-1971:
Mini Cooper S 970cc Engine
Mini Cooper 997cc Engine

Mini

 Cooper 

998cc

 

Engine
Mini Cooper S

 

1071cc

 

Engine

Mini Cooper S

 

1275cc

 

Engine
This shop manual suitable for but not limited to Minis built in

UK
Europe

New Zealand
Portugal
South Africa
Spain
Canada
Sweden
Germany
Japan
Below is a detailed list of topics covered in this Mini Cooper Engine Rebuild Manual: 
GENERAL DATA

MINI COOPER 997 c.c. & 998 c.c.
MINI-COOPER'S' MK. I (970 c.c., 1071 c.c. & 1275 c.c.) and COOPER'S' MK. II & III (1275 c.c.)
MINI 1275 GT

ENGINE TUNING DATA

MINI-COOPER (997 c.c.)
MINI-COOPER (998 c.c.)
MINI-COOPER 'S' (970 c.c. and 1071 c.c.)
MINI-COOPER 'S' (Mk. I, II, & llI)
MINI 1275 GT

THE ENGINE

Air cleaner
Camshaft
Carburetter
Crankcase closed-circuit breathing
Crankshaft and main bearings
Cylinder head
Decarbonizing
Distributor spindle
Engine and sub-frame
Engine and transmission
Engine mountings
Exhaust manifold
Exhaust pipe
Flywheel and clutch
Flywheel housing and primary gear
Flywheel retaining screw thread
Flywheel with diaphragm clutch
Gear change remote control assembly
Oil cooler (Cooper 'S')
Oil pressure
Oil pressure relief valve
Oil pump
Pistons and connecting rods
Primary gear oil seal replacement
Rocker shaft
Tappets
Timing cover
Timing gears and chain
Transmission housing
Valve timing
Valves

THE IGNITION SYSTEM

Capacitor
Distributor
Sparking plugs
Timing

THE COOLING SYSTEM


Fan belt
Frost precautions
Radiator
Thermostat
Water pump

THE FUEL SYSTEM

Air cleaner
Carburetter
Fuel pump
TypePD
TypeSP
Testing
Fuel tank
Tank gauge unit
Twin fuel tanks (Cooper 'S')

THE CLUTCH

Adjustments
Overthrow
Pedal movement
Throw-out stop
Drag
Master cylinder
Overhaul (coil pressure spring type)
Removal (diaphragm spring type)
Slave cylinder
File Format: PDF 
Language: English 
Print: Print the complete manual or just the pages you require  
Bookmarked: Bookmarked for easy navigation
Requirements: We recommend using Adobe PDF Reader for best results 
Device: We recommend downloading to a PC or Laptop or visit our Download Help Page for further information regarding Smart Devices

Images are Copyright©Car Manuals Direct and are used for promotional purposes only.
Copyright©Car Manuals Direct 2018
---
Share this Product
---
More from this collection