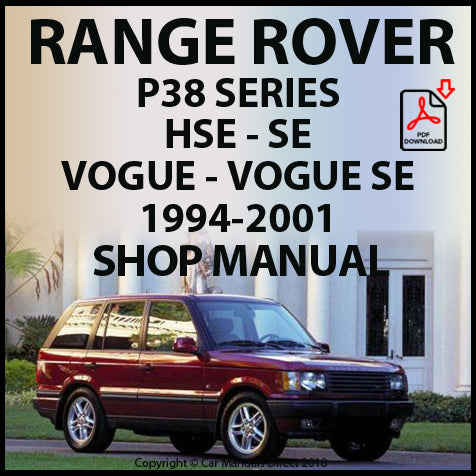 RANGE ROVER P38 1994-2001 Comprehensive Workshop Manual | PDF Download
---
RANGE ROVER P38 1994-2001 Comprehensive Workshop Manual | PDF Download
RANGE ROVER P38 1994-2001 Comprehensive Workshop Manual | PDF Download
With easy to follow step by step instructions for the home workshop mechanic or professional technician.

This manual is for Range Rover P38 models made between 1994-2001.
The following Engines and Transmissions are covered in this manual:
Engines
Landrover 4.0 litre V8
Landrover 4.6 litre V8
BMW 2.5 litre 6 cylinder Turbo Diesel
Transmissions
ZF4 HP22 Auto
R380 Manual
Below is a list of topics covered in this Range Rover P38 manual:
Fully bookmarked & interactive index
Volume 1
Introduction
General Specification Data
Engine Tuning Data
Torque Values
General Fitting Reminders
Lubricants, Fluids & Capacities
Maintenance
Engine - BMW Diesel
Engine - Landrover V8
Emission Control
Fuel System - BMW Diesel
Fuel System - Landrover V8
Cruise Control
Cooling System BMW Diesel
Cooling System - Landrover V8
Manifold & Exhaust System
Clutch
Manual Gearbox
Volume 2
Transfer Box
Automatic Gearbox
Propeller Shafts
Rear Axle & Final Drive
Front Axle & Final Drive
Steering
Front Suspension
Rear Suspension
Brakes
Supplementary Restraint System
Chassis & Body
Panel Repairs
Seats
Heating & Ventilation
Air Conditioning
Wipers & Washers
Electrical
Navigation System
Instruments
File Format: PDF 
Language: English 
Print: Print the complete manual or just the pages you require  
Bookmarked: Bookmarked for easy navigation
Requirements: We recommend using Adobe PDF Reader for best results 
Device: We recommend downloading to a PC or Laptop or visit our Download Help Page for further information regarding Smart Devices
Images are Copyright©Car Manuals Direct and are used for promotional purposes only.
Copyright©Car Manuals Direct 2018
---
Share this Product
---
More from this collection