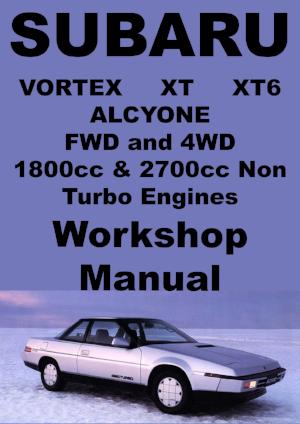 SUBARU Vortex, Alcyone, XT, XT6 1985-1991 Comprehensive Workshop Manual | PDF Download
---
SUBARU Vortex, Alcyone, XT, XT6 1985-1991 Comprehensive Workshop Manual | PDF Download
SUBARU Vortex, Alcyone, XT, XT6 1985-1991 Comprehensive Workshop Manual | PDF Download
Over 1350 page comprehensive Workshop Manual with easy to follow step by step instructions for the home workshop mechanic or professional technician
The information in this Subaru Vortex Workshop Repair Manual is for the following model/s made between 1985-1991:
Subaru Vortex
Subaru XT
Subaru XT6
Subaru Alcyone
Engines and drive systems covered by this manual:
Engines:
Subaru EA82 4 cylinder
Subaru ER27 6 cylinder
Drive systems:
2 wheel drive
All wheel drive
Turbo and Non Turbo
Manual Transmission
Automatic Transmission
The following is a list of information contained in this Subaru Repair Manual. All sections show how to remove, repair and replace the parts with full easy to follow descriptions and detailed diagrams.
General Information
Specifications
Servicing and maintenance
Engine 4 cylinder
Engine 6 cylinder
Engine Lubrication
Fuel Injection System (MPFI Non Turbo)
Fuel Injection System (SPFI)
Fuel System
Exhaust System
Clutch
Engine and Transmission mounting system
Manual Transmission and Differential
Automatic Transmission and Differential
AWD System
Suspension
Wheels and Axles
Steering System
Brakes
Pedal System
Control Cables
Air Conditioning System
Body and Exterior
Instrument Panel
Supplemental Restraint System
Body Electrical System
Wiring Diagrams
File Format: PDF 
Language: English 
Print: Print the complete manual or just the pages you require  
Bookmarked: Bookmarked for easy navigation
Requirements: We recommend using Adobe PDF Reader for best results 
Device: We recommend downloading to a PC or Laptop or visit our Download Help Page for further information regarding Smart Devices
Images are Copyright©Car Manuals Direct and are used for promotional purposes only.
Copyright©Car Manuals Direct 2018
---
Share this Product
---
More from this collection