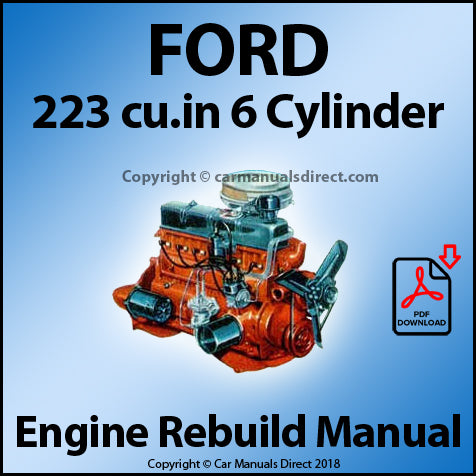 FORD 223 CID In Line 6 Cylinder Genuine Comprehensive Engine Rebuild Manual | PDF Download
---
FORD 223 CID In Line 6 Cylinder Genuine Comprehensive Engine Rebuild Manual | PDF Download
FORD 223 CID In Line 6 Cylinder Genuine Comprehensive Engine Rebuild Manual | PDF Download
This Ford Service Manual covers the following engine models: 
Ford 6 cylinder 223 cu.in.
 Below is a detailed list of topics covered in this Ford Service Manual: 
 General Engine Service
Engine Removal and Installation.
Engine Supports
Manifolds and Exhaust Gas Control valve
Cylinder Head and Valves
Crankshaft Damper and Cylinder Front Cover
Timing Chain, Camshaft Bearing and Tappets
Flywheel, Crankshaft and Main Bearings
Connecting Rods, Bearings, Pistons, Pins and Rings
Oil Pan, Oil Filter and Oil Pump
Exhaust System
 Ignition System
Trouble Shooting
Ignition System Testing
Distributor Tests, Adjustments and Minor Repairs
Loadomatic Distributor Overhaul
Centrifugal Advance Distributor Overhaul
 Fuel System
Trouble Shooting
Air Cleaner
Holley Single Barrel Carburettor
Ford Dual Barrel Carburettor
Holley Dual Barrel Carburettor
Holley Four Barrel Carburettor
Ford Four Barrel Carburettor
Carter Four Barrel Carburettor
Throttle Linkage Adjustment
Fuel Pumps and Vacuum Booster
Fuel Tank and Lines
 Cooling System
Trouble Shooting and Cooling System Maintenance
Radiator, Hoses and Thermostat
Fans and Belts
Water Pump
 Specifications
 Torque Settings
File Format: PDF 
Language: English 
Print: Print the complete manual or just the pages you require  
Bookmarked: Bookmarked for easy navigation
Requirements: We recommend using Adobe PDF Reader for best results 
Device: We recommend downloading to a PC or Laptop or visit our Download Help Page for further information regarding Smart Devices
Images are Copyright©Car Manuals Direct and are used for promotional purposes only.
Copyright©Car Manuals Direct 2018
---
Share this Product
---
More from this collection