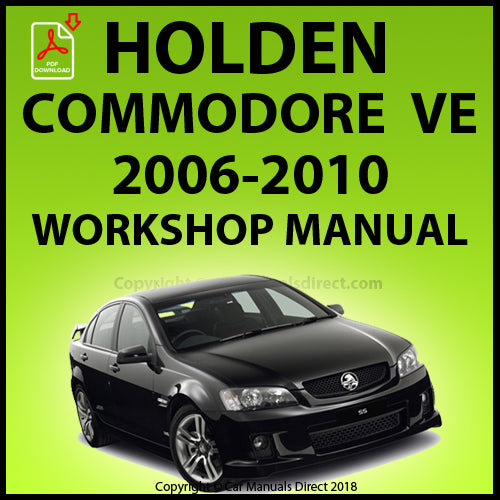 HOLDEN VE Commodore 2006-2010 Comprehensive Workshop Service Manual | PDF Download
---
HOLDEN VE Commodore 2006-2010 Comprehensive Workshop Manual | PDF Download
HOLDEN VE Commodore 2006-2010 Comprehensive  Workshop Manual | PDF Download
This manual is suitable for the following Holden Commodore VE models made from 2006-2010:

Holden Commodore Omega 
Holden Commodore SV6
Holden Commodore SS
Holden Commodore SS V
Holden Commodore Berlina
Holden Commodore V Series
Holden Commodore Lumina
Holden Commodore 60th Anniversary
Holden Commodore International
Holden Calais
Holden Calais V
Holden Calais V International
Engines covers in this manual
V6 3.6 Litre

V8 6.0 Litre

V8 6.2 Litre
V8 7.0 Litre
Below is a list of topics covered in this Holden manual:
Engine Mechanical 6 Cylinder – 3.6L
Engine Mechanical V8 – 6.0L, 6.2L, or 7.0L
Engine Controls and Fuel – 3.6L
Engine Controls and Fuel – 6.0L, 6.2L, or 7.0L
Engine Cooling
Engine Electrical
Engine Exhaust

Automatic Transmission – 5L40-E/5L50-E
Automatic Transmission – 6L50/6L80/6L90
Manual Transmission – Tremec 6-Speed

Clutch
Shift Lock Control
Floor Coverings and Headlinings
Brakes
Antilock Brake System
Disc Brakes
Hydraulic Brakes
Park Brake
Driveline/Axle
Propeller Shaft
Rear Drive Axle
Wheel Drive Shafts
Steering
Power Steering
Steering Wheel and Column
Suspension
Front Suspension
Tire Pressure Monitoring
Body Hardware and Trim
Instrument Panel and Console Trim
Interior Trim and Paneling
Exterior Trim
Body Repair
Bolted Exterior Body Panels and Closures
Bumpers and Fascias
Collision Repair
Frame and Underbody
Paint and Coatings
Plastic Panel Information and Repair
Body Systems
Fixed and Moveable Windows
Horns
Lighting
Mirrors
Vehicle Access
Wipers and Washers
Seats
Power Seats
Seat Hardware, Trim, and Upholstery
Seat Heating and Cooling
Diagnostic Navigation
Programming and Setup
Vehicle Diagnostic Information
Driver Information and Entertainment
Cellular, Entertainment, and Navigation
Displays and Gauges
Secondary and Configurable Customer Controls
HVAC
Heating, Ventilation, and Air Conditioning
HVAC – Automatic
HVAC – Manual
Sunroof
Specifications
Schematic and Routing Diagrams
Component Locator
Visual Identification
Diagnostic Information and Procedures
Special Tools and Equipment
Power and Signal Distribution
Data Communications
Power Outlets
Wiring Systems and Power Management
Safety and Security
Immobilizer
Remote Functions
Seat Belts
Supplemental Inflatable Restraints
Theft Deterrent
File Format: PDF 
Language: English 
Print: Print the complete manual or just the pages you require  
Bookmarked: Bookmarked for easy navigation
Requirements: We recommend using Adobe PDF Reader for best results 
Device: We recommend downloading to a PC or Laptop or visit our Download Help Page for further information regarding Smart Devices
Images are Copyright©Car Manuals Direct and are used for promotional purposes only.
Copyright©Car Manuals Direct 2018
All images and information shown are Copyright © Car Manuals Direct. Images used for promotional purposes only. Not included in Manual.

---
Share this Product
---
More from this collection