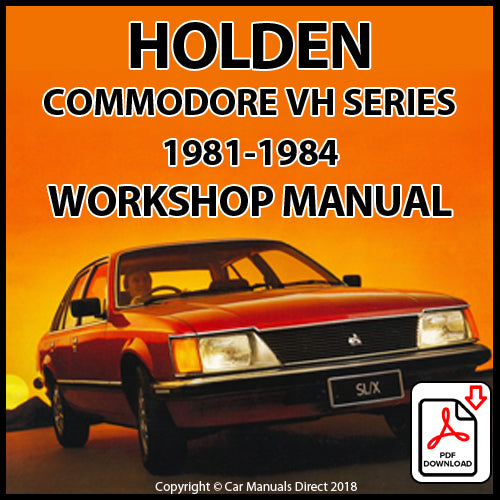 HOLDEN VH Commodore SL, SL/X, SL/E 1981-1984 Comprehensive Workshop Service Manual | PDF Download
---
HOLDEN VH Commodore SL, SL/X, SL/E 1981-1984 Comprehensive Workshop Manual | PDF Download
HOLDEN VH Commodore SL, SL/X, SL/E 1981-1984 Comprehensive Workshop Manual | PDF Download
This manual is for the following Holden VH models made from 1981-1984:
Holden Commodore SL Sedan and Station Wagon
Holden Commodore SL/X Sedan and Station Wagon
Holden Commodore SL/E Sedan and Station Wagon
Engines cover by this workshop manual:
1900cc 4 Cylinder 
2850cc 6 cylinder 
3300cc 6 cylinder 
4200cc V8 
5000cc V8 
Below is a list of topics covered in this Holden manual. Each topic has fully detailed descriptions on how to repair, replace and rebuild each part, with easy to follow instructions, photos and images.:

Fully bookmarked & interactive index
General Information
Lubrication Instructions
Body Panels, Windows, Bumpers and Grille
Ventilation, Heater System
Air Conditioning System
Front Suspension
Rear Suspension
Rear Axles and Differential
Propeller Shaft
Brake System
Brake Master Cylinder
Disc Brake Repair and Replacement
Drum Brake Repair and Replacement
Hand Brake
Engine Assembly L4
Engine Assembly L6
Engine Assembly V8
Engine Tune and Emission Control
Fuel Systems
Cooling System
Torque Wrench Specifications
Clutch Repair and Replacement
M20 Manual Transmission
M21 Manual Transmission
Borg Warner 5 Speed Manual
Tri-matic Automatic Transmission
Turbo Hydra-matic 400 Transmission
Fuel Tank
Exhaust System
Steering Column Assembly
Manual Steering
Power Steering
Wheels and Tyres
Electrical System
Battery
Starting System
Generating System
Lighting System
Instruments and Gauges
Radio and Tape Player
Wiring Harness
Wiring Diagrams
File Format: PDF 
Language: English 
Print: Print the complete manual or just the pages you require  
Bookmarked: Bookmarked for easy navigation
Requirements: We recommend using Adobe PDF Reader for best results 
Device: We recommend downloading to a PC or Laptop or visit our Download Help Page for further information regarding Smart Devices
Images are Copyright©Car Manuals Direct and are used for promotional purposes only.
Copyright©Car Manuals Direct 2018
HOLDEN COMMODORE VC HISTORY
Holden Commodore VH 1981-1984
September 1981 saw the release of the updated VH Commodore. Again three trim levels were offered, but with name changes being SL, SL/X and SL/E.
A new, Borg-Warner 5-speed manual gearbox was made available for 1.9 and 2.85-litre engines.
The Commodore SS was released in September 1982. Initially only available in Maranello Red, it was later available in white. The SS models were fitted with the 4.2-litre V8 engine standard with the M21 Australian 4-speed gearbox. The 5.0-litre V8 was optional.
All images and information shown are Copyright © Car Manuals Direct. Images used for promotional purposes only. Not included in Manual.
---
Share this Product
---
More from this collection