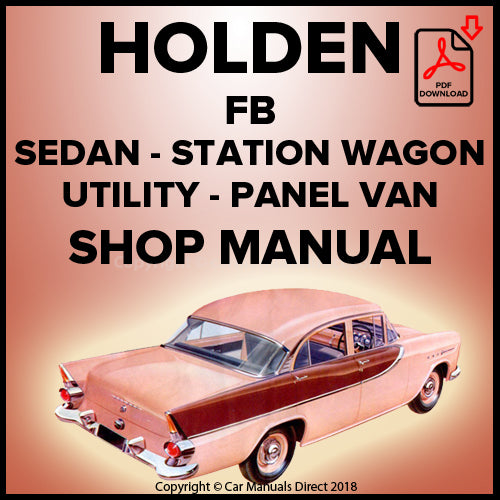 HOLDEN FB Sedan, Station Wagon, Utility, Panel Van 1960-1961 Comprehensive Workshop Service Manual | PDF Download
---
HOLDEN FB Sedan, Station Wagon, Utility, Panel Van 1960-1961 Comprehensive Workshop Service Manual | PDF Download
HOLDEN FB Sedan, Station Wagon, Utility, Panel Van 1960-1961 Comprehensive Workshop Service Manual | PDF Download
This manual is suitable for the following Holden models made from 1960-1961:
Holden FB Standard Sedan
Holden FB Special Sedan
Holden FB Standard Station Wagon
Holden FB Special Station Wagon
Holden FB Utility
Holden FB Panel Van
Please note: This manual covers all Holden models from 1948-1963.
Below is a very comprehensive list of topics covered in this Holden manual:
General Specification
General Lubrication

Engine Lubrication
Water Pump
Generator
Distributor
Gear Shift
Clutch

Clutch Linkage
Clutch and Brake Pedals

Rear Axle
Gearbox
Steering gear
Universal Joints
Front Wheel bearings
Rear Wheel bearings
Spring Shackles
Shock Absorbers
Body Lubrication

Body Frame

General Description
Front Sub-frame Assembly
Exterior Ornamentation

Windshield Moulding
Rear window moulding
Moulding roof side rail
Front fender moulding
Door moulding
Quarter panel belt moulding
Rear quarter panel name plate & emblem

Windshield Wiper Assembly

Wiper motor
Auxiliary drive and pivot arm

Instrument Panel compartment
Doors

Interior handles
Trim linings
Arm Rest
Hinges
Check
Alignment
Division channel
Hold open device
Rear door gravel shield
Glass run channels
Exterior handles and safety lock
Locks
Window regulator
Door ventilator
Lock striker plate
Door removal

Glass Replacement

Windshield glass
Rear window glass
Front & rear door glass
Front door ventilator glass
Rear door quarter glass

Weather and Dust Seals

Door opening weather seal
Door opening dust seal

Cowl ventilator
Trunk compartment lid
Seats

Construction
Front seat
Rear seat
Seat springs
Front seat adjuster

Trim

Door lining
Head lining
Seats

Body Sheet Metal

Engine hood

Hinges
Adjustment
Lock plate latch control & adjustment
Alignment with top of radiator grille

Grille
Front fenders

Removal
Installation
Front fender alignment

Rear fenders

Air Cleaner
Shock Absorbers

Description
Minor service operations

Filling shock absorbers
Checking fluid leaks
Testing shock absorber operation
Replacement of relief valves
Shock absorber links

Major service operations

Replacement of shock absorber parts

Front shock absorbers
Rear shock absorbers

Diagnosis chart
Specifications

Front Suspension

General description
Minor service operations and adjustments

Cross member mountings
Front wheel hubs and bearings

Front wheel bearing adjustment

Steering linkage

Steering idler arm
Steering connecting rod
Tie rods and tie rod ball sockets

Stabilizer bar

Front suspension alignment

Description
Camber
Caster
King pin inclination
Toe in
Steering geometry (toe in on turns)

Checking and adjusting alignment

Checking caster and camber
Adjusting caster and camber
Checking king pin inclination
Adjusting wheels to straight ahead position
Adjusting toe in
Checking steering geometry

Major service repair operations

Front suspension unit
Front spring
Lower control arm outer bolt and bushing
Lower control arm and/or shaft
Upper control arm outer bolt
Upper control arm and/or shaft
King pin bushings

Diagnosis guide
Special service tools
Specifications

Rear Axle

Description

Rear axle shafts and bearings

Periodic service

Axle bearings
Differential

Minor service operations

Rear universal joint flang or pinion oil seal
Rear axle shaft and bearing
Axle oil seal

Major service operations

Differential carrier assembly
Removal
Inspection of differential before disassembly
Complete disassembly
Cleaning and inspection of differential parts
Pinion bearing pre-load and pinion location
Pre-load adjustment of new pinion bearings
Assembly
Installation

Rear axle housing assembly

Removal
Disassembly
Assembly
Installation
Diagnosis of rear axle noises

Rear Suspension

Description
Rear spring mountings
Rear spring seats
Rear springs
Specifications

Propeller Shaft and universal Joints

Description

Removal – Propeller shaft
Inspection and lubrication of universal joints
Installation – propeller shaft

Front propeller shaft housing
Checking oil leak at front yoke
Diagnosis of propeller shaft and universal joint faults
Specifications

Brakes

Description

Master cylinder
Wheel cylinder
Sequence of events during operation
Handbrake

Hydraulic Brake Fluid
Preventative Maintenance
Minor service operations

Bleeding the hydraulic system
Brake master cylinder push rod adjustment
Brake shoe adjustment
Handbrake adjustment
Handbrake pull rod assembly
Handbrake front cable and conduit assembly
Brake pedal assembly
Stop light switch

Major service operations

Brake shoe replacement
Handbrake actualating lever adjustment
Brake drums
Master cylinder repair/replacement
Wheel cylinder repair/replacement

Diagnosis guide
Specifications

Engine Assembly

General description

Intake and exhaust manifolds
Engine lubrication
Engine ventilation

Minor service operations

Engine tune-up
Valve adjustment
Valve timing check
Cylinder head and valve conditioning
Oil pump
Timing gear cover oil seal
Camshaft and/or engine front cover plate
Engine mountings

Major service operations

Engine removal, disassembly, inspection
Repairs to engine parts
Cylinder conditioning
Cylinder boring
Cylinder honing and piston fitting
Piston pin and bushing fitting
Connecting rod alignment, piston and connecting rod assembly
Piston ring fitting
Camshaft, camshaft bearings and timing gear
Crankshaft, crankshaft bearings and timing gear
Flywheel and ring gear
Cylinder head and valve gear
Oil pump
Timing gear cover oil seal
Engine assembly and installation

Diagnosis chart

Fuel System

Carburettor

Description
Operation
Minor service operations

Idle adjustments
Checking and adjusting fuel level
Accelerator pump stroke adjustment
Fuel consumption tests

Major service operations

Carburettor removal, disassembly, inspection, installation

Air cleaner
Fuel and vacuum pump

Description
Operation
Minor service operations

Testing fuel pump
Period service check
Testing vacuum pump

Major service operations

Removal, disassembly, inspection installation

Diagnosis chart

Carburettor
Fuel pump
Vacuum pump

Cooling System

General description

Water pump
Vehicle operation in cold regions
Cooling system inhibitors

Minor service operations

Draining and flushing the system
Fan belt adjustment
Thermostat
Radiator cap

Major service operations

Water pump, remove repair/replace, install
Radiator Remove. Install

Diagnosis chart
Special tools
Specifications

Clutch

General description
Minor service operations

Break in of new driven plate facings
Clutch control adjustments

Master cylinder push rod adjustment
Clutch fork operating rod adjustment
Clutch pedal return (over centre) spring adjustment

Clutch pedal assembly
Hydraulic fluid
Bleeding the hydraulic system

Major service operations

Clutch actuating cylinder overhaul
Clutch master cylinder overhaul
Clutch assembly, removal, inspect/replace, assemble

Diagnosis chart
Special tools
Specifications

Engine Special Tools
Engine Specifications
Transmission

General description
Minor service operations

Gearshift linkage adjustment
Gearshift linkage overhaul
Transverse selector shaft oil seal replacement
Selector lever shaft housing and/or oil seal replacement
Speedometer gear replacement

Major service operations

Transmission removal, dismantle, inspect, replace, assemble, install

Diagnosis guide
Special tools
Specifications

Steering System

General description
Minor service operations

Steering wheel
Steering gear adjustment
Steering shaft upper bearing replacement

Major service operations

Sector shaft end play adjustment
Steering gear assembly overhaul

Diagnosis chart
Specifications

Electrical System

Wiring diagrams
Battery
Diagnosis guide

Torque Wrench Specifications
File Format: PDF 
Language: English 
Print: Print the complete manual or just the pages you require  
Bookmarked: Bookmarked for easy navigation
Requirements: We recommend using Adobe PDF Reader for best results 
Device: We recommend downloading to a PC or Laptop or visit our Download Help Page for further information regarding Smart Devices
Images are Copyright©Car Manuals Direct and are used for promotional purposes only.
Copyright©Car Manuals Direct 2018
Holden FB History
Holden FB 1960-1961
January 1960 saw the release of the very modern American looking Holden FB. This was a completely new body style based on the floor pan and mechanicals of the earlier Holden FC. The new body style had the American styled 'wrap around windscreen and tail fins'.
The interior was also updated with wider and more comfortable seats, a deep dish steering wheel and chromed instrument cluster. A Warmaride Heater and Demister was available as an optional extra.
The engine, although based on the previous Holden FC was more powerful due to a bigger bore and raised compression ratio. The engine was now 138 cubic inches and put out 75 horse power. The brakes were improved with wider drums and linings and the suspension received a few tweaks to improve the ride.
In July 1960, General Motors Holden introduced a new Dulon acrylic lacquer paint finish called the Magic Mirror finish. Also introduced around this time was the left hand drive version so Holden could develop more export markets.
From January 1960 to May 1961 Holden sold 174,747 FB models.
Source: 60 Years of Holden by Terry Bebbington
All images and information shown are Copyright © Car Manuals Direct. Images used for promotional purposes only. Not included in Manual.
---
Share this Product
---
More from this collection