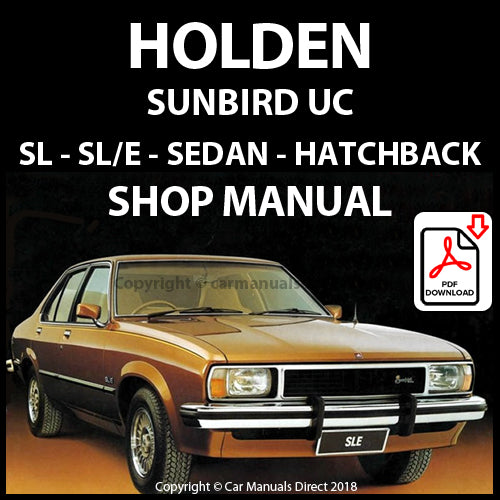 HOLDEN UC Sunbird SL - SL/E - SL Hatchback 1978-1980 Comprehensive Workshop Service Manual | PDF Download
---
HOLDEN UC Sunbird SL - SL/E - SL Hatchback 1978-1980 Comprehensive  Workshop Manual | PDF Download
HOLDEN UC Sunbird SL - SL/E - SL Hatchback 1978-1980 Comprehensive Workshop Manual | PDF Download
This manual is suitable for the following Holden models:
Holden UC Sunbird Sedan
Holden UC Sunbird SL Sedan
Holden UC Sunbird SL/E Sedan
Holden UC Sunbird SL Hatchback

Engines covered in this manual:
Opel 1897cc 4 cylinder
Starfire 1892cc 4 Cylinder
Below is a comprehensive list of topics covered in this Holden Sunbird UC manual:
Engine

Cylinder head
Sump
Oil Pump
Pistons and connecting rods
Crankshaft and main bearings
Timing cover oil seal
Timing gear
Distributor
Camshaft and tappets
Hydraulic tappets
Flywheel and drive plate
Ring gear
Manifold
Crankcase ventilation
Engine mounts
Fault diagnosis

Cooling System

Radiator
Thermostat
Water pump
Fan belt
Fault Diagnosis

Fuel system

Bendix Stromberg BXUV-2 BXV-2 Carburettor
Bendix Stromberg WW-2 Carburettor
Air cleaner
Fuel pump
Fuel tank
Fault diagnosis

Clutch

Hydraulic operated clutch
Mechanically operated clutch linkage
Clutch adjustment
Clutch unit
Clutch pedal
Torque wrench settings
Fault diagnosis

Manual Transmission

4 Speed MC6 gearbox

Floor shift assembly
Gearbox cover and gearshift mechanism
Gearshift linkage

Gearbox fault diagnosis
Propeller shaft

Automatic Transmissions

Trimatic

Specifications
Description
Hydraulic fluid
Servo band
Transmission shift linkage
Neutral safety switch
Cable & throttle control linkage adjustment
Oil pressure
Transmission assembly removal & installation
Torque wrench settings

Automatic Transmission fault diagnosis

Rear Axle

Standard Semi-floating rear axle

Specifications & torque wrench settings
Description
Axle shaft and bearing
Differential assembly
Drive pinion
Drive pinion oil seal
Rear axle assembly
Limited slip differential

Steering System

Standard Steering

Specifications & torque wrench settings
Description
Steering wheel
Horn contacts
Steering shaft upper bearing
Steering column
Steering gear assembly
Steering coupling
Steering idler arm and bracket
Steering connecting rod
Stabiliser bar

Fault diagnosis

Front suspension

Specifications & torque wrench settings
Front hub
Steering knuckle
Shock absorbers
Coil springs
Stabiliser bar
Suspension and steering angles
Front cross member
Fault diagnosis

Rear suspension

Specifications & torque wrench settings
Description
Shock absorbers
Springs
Spring bushes
Fault diagnosis

Brakes

Specifications & torque wrench settings
Drum Brakes

Description
Master cylinder
Wheel cylinders
Hydraulic system
Front brake drums and shoes
Rear brake drums and shoes
Adjustments
Vacuum servo unit

Disc Brakes

Brake caliper assemblies
Brake discs
Hydraulic system
Vacuum servo unit

Fault diagnosis

Electrical system

Specifications & torque wrench settings
Battery
Alternator
Regulator
Starter motor
Distributor
Direction indicator switch
Headlamp unit
Windscreen wiper
Switches and controls
Fault diagnosis

Body

Windscreen and rear glass
Front door assembly
Rear door assembly
Hatchback
Engine bonnet
Grille
Front fenders
Luggage lid and lock
Door lock striker

Wheels and tyres
Lubrication and maintenance
File Format: PDF 
Language: English 
Print: Print the complete manual or just the pages you require  
Bookmarked: Bookmarked for easy navigation
Requirements: We recommend using Adobe PDF Reader for best results 
Device: We recommend downloading to a PC or Laptop or visit our Download Help Page for further information regarding Smart Devices
Images are Copyright©Car Manuals Direct and are used for promotional purposes only.
Copyright©Car Manuals Direct 2018
Holden Sunbird UC History
Holden Sunbird UC 1978-1980
General Motors Holden introduced the Sunbird UC model in March 1978. Over it's 2 year life span it was available with 2 engines, the Opel 1897cc 4 cylinder and the 1892cc Starfire 4 cylinder, basically a cut down version of the Holden 6 engine.
The UC Sunbird came standard with the new Holden RTS suspension system which gave it great handling. A base model UC Sunbird cost $5925.


All images and information shown are Copyright © Car Manuals Direct. Images used for promotional purposes only. Not included in Manual.
---
Share this Product
---
More from this collection