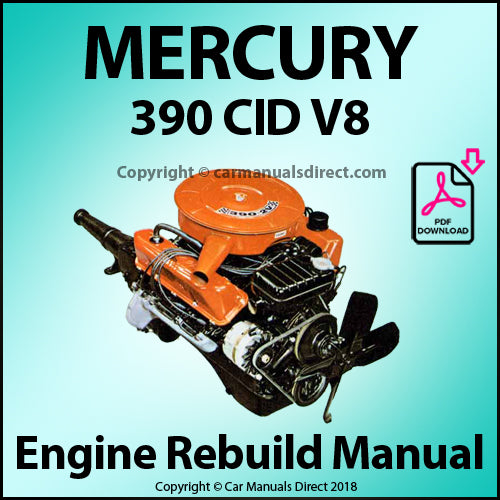 Mercury 390 CID V8 Genuine Comprehensive Engine Rebuild Workshop Manual | PDF Download
---
Mercury 390 CID V8 Genuine Comprehensive Engine Rebuild Workshop Manual | PDF Download
Mercury 390 CID V8 Genuine Comprehensive Engine Rebuild Workshop Manual | PDF Download. 
With easy, step by step instructions for the home workshop mechanic or professional technician.
This Mercury/Ford Manual covers the following engine models: 
Mercury/Ford 390 CID V8 Engine
Below is a detailed list of topics covered in this Ford Manual:  
390 V8 Engine Rebuild

General Engine Service
Diagnosis and Testing
Common Adjustments and Repairs

Valve Lash - Mechanical Valve Lifters
Valve Clearance - Hydraulic Valve Lifters
Valve Rocker Arm and/ or Shaft Assembly
Push Rods
Cylinder Heads
Valves
Camshaft
Crankshaft
Pistons, Pins and Rings
Cylinder Block
Flywheel Ring Gear- Manual-Shift Transmissions

Cleaning and Inspection
390 V8 Rebuild

Description and Operation
ln-Car Adjustments and Repairs

Engine Supports
Valve Rocker Arm Shaft Assembly
Intake Manifold
Exhaust Manifolds
Positive Crankcase Ventilation System
Cylinder Heads
Valve Spring, Retainer and Stem Seal Replacement
Cylinder Front Cover and Timing Chain
Front Oil Seal Replacement
Camshaft
Camshaft Bear Bearing Bore Plug Replacement
Valve lifter or Tappet Replacement
Crankshaft Rear Oil Replacement
Main and Connecting Rod Bearing Replacement
Connecting Rod Bearing Replacement
Piston and Connecting Rod Assembly
Flywheel
Clutch Pilot Bushing Replacement
Oil Filter Replacement
Oil Pan
Oil Pump

Engine Removal and Installation
Major Repair Operations

Crankshaft
Camshaft Bearing Replacement
Cylinder Assembly Replacement
Engine Disassembly
Engine Assembly
Specifications
General Engine
Valve Mechanism
Camshaft and Timing Chain
Camshaft Bearings
Crankshaft
Main Bearings
Connecting Rod
Connecting Rod Bearings
Piston
Piston Pin
Piston Rings
Cylinder Block
Oil Pump - Rotor Type

Torque Limits
Special Tools
Ignition System


General Ignition Service

Loadomatic Distributors
Dual Advance Distributor
Centrifugal Advance Distributors
Specifications

Fuel System

General Fuel System Service
Diagnosis and Testing

Fuel Lines and Filter
Fuel Pump
Fuel Pump, Tank and lines Diagnosis Guide
Air Intake Duct Test
Carburetor
Carburetor Diagnosis Guide

Common Adjustments and Repairs

Ford 1-V Carburetor
Ford 2-V and 4-V Carburetor
Holley 4-V Carburetors
Throttle linkage Adjustment
Throttle linkage Repair
Cleaning and Inspection

Fuel Pump
Air Cleaner - Dry Type
Air Cleaner - Oil Bath Type
Carburetors

Description and Operation
In-Car Adjustments and Repairs

Removal and Installation
Major Repair Operations

Fuel Pump

Specifications
Cooling System

General Cooling System Service

Water Pump
Radiator and Supply Tank
Fan Drive Clutch
Specifications

Exhaust Systems
Charging System

General Charging System Service

42 and 45-Ampere Ford Alternator
Ford Alternator Regulator
Ampere Leece Neville Alternator
60-Ampere Alternator
Leece-Neville Alternator Regulators
Specifications

Group 14 Starting System

General Starting system Service
File Format: PDF 
Language: English 
Print: Print the complete manual or just the pages you require  
Bookmarked: Bookmarked for easy navigation
Requirements: We recommend using Adobe PDF Reader for best results 
Device: We recommend downloading to a PC or Laptop or visit our Download Help Page for further information regarding Smart Devices
Images are Copyright©Car Manuals Direct and are used for promotional purposes only.
Copyright©Car Manuals Direct 2018
---
Share this Product
---
More from this collection