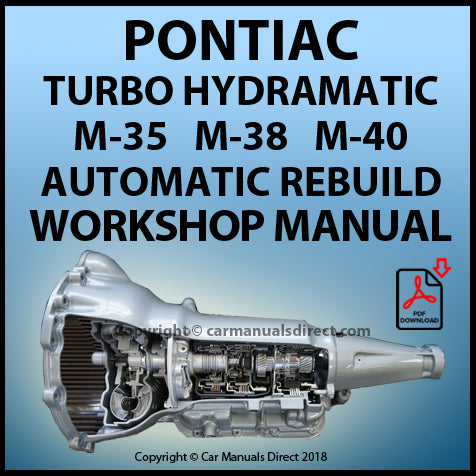 PONTIAC Turbo Hydramatic M-35, M-38 and M-40 Automatic Comprehensive Rebuild Manual | PDF Download
---
PONTIAC Turbo Hydramatic M-35, M-38 and M-40 Automatic Comprehensive  Rebuild Manual | PDF Download
PONTIAC Turbo Hydramatic M-35, M-38 and M-40 Automatic Comprehensive Rebuild Manual | PDF Download
With easy to follow step by step instructions for the home workshop mechanic or professional technician. 
This
Transmission Rebuild Manual
covers the following transmissions: 
Turbo Hydramatic M-35 Automatic
Turbo Hydramatic M-38 Automatic
Turbo Hydramatic M-40 Automatic
Below is a detailed list of topics covered in this Transmission Rebuild Manual: 
Removal of Major Components from the Transmission Case
Speedometer Driven Gear, Oil Pan. Strainer and Intake Pipe Removal
Control Valve Assembly. Governor Pipes and Detent Spring Assembly - Removal
Rear Servo. Solenoid. Connector. Valve Body Spacer. Gasket. Front Servo. Manual Detent and Park Linkage Removal
Rear Oil Seal and Extension Housing Removal
Turbine Shaft. Forward Clutch. Direct Clutch. Front Band. Sun Gear Shaft Intermediate Clutch. Center Support- Removal
Disassembly of the Gear Train Assembly
Governor Assembly
Front Servo Disassembly. Inspection and Reassembly
Rear Servo Disassembly, Inspection and Reassembly
Control Valve Assembly. Disassembly. Inspection and Reassembly
Oil Pump Disassembly. Inspection and Reassembly
Forward Clutch Disassembly. Inspection and Reassembly
Direct Clutch and Intermediate Sprag Disassembly. Inspection and Reassembly
Center Support and Intermediate Clutch Disassembly. Inspection and Reassembly
Inspection of the Reaction Carrier. Rear Sprag and Output Carrier Assembly
Pinion Replacement Procedure
Inspection of the Output Shaft
Inspection of the Rear Internal Gear
Inspection of the Sun Gear
Inspection of the Sun Gear Shaft
Inspection of the Turbine Shaft
Inspection of the Mainshaft
Inspection of the Front and Rear Bands
Inspection of the Case Extension
Inspection of the Modulator Valve
Inspection of Manual and Parking Linkage
Inspection of the Case Assembly
Inspection of the Torque Converter
Assembly of the Rear Unit
Assembly of Units in to the Transmission Case
Rear Extension Housing Assembly
Installation of Manual Linkage
Installation of Check Balls. Front Servo. Gaskets. Spacer and Solenoid
Installation of Rear Servo Assembly
Installation of the Control Valve Assembly and Governor Pipes
Installation of the Modulator Valve and Vacuum Modulator
Installation of the Governor Assembly
Installation of the Speedometer Driven Gear Assembly
File Format: PDF 
Language: English 
Print: Print the complete manual or just the pages you require  
Bookmarked: Bookmarked for easy navigation
Requirements: We recommend using Adobe PDF Reader for best results 
Device: We recommend downloading to a PC or Laptop or visit our Download Help Page for further information regarding Smart Devices
Images are Copyright©Car Manuals Direct and are used for promotional purposes only.
Copyright©Car Manuals Direct 2018
---
Share this Product
---
More from this collection