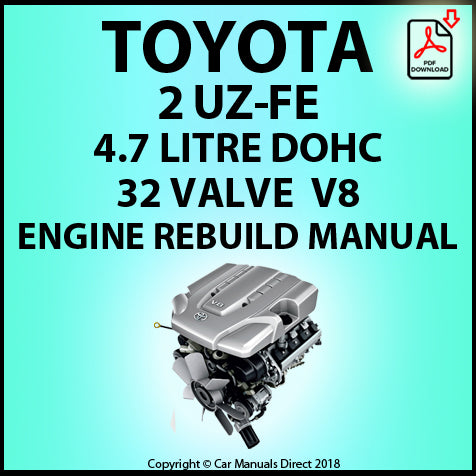 Toyota 2UZ-FE 4.7 Litre DOHC 32 Valve V8 Engine Rebuild Manual | PDF Download
---
Toyota 2UZ-FE 4.7 Litre DOHC 32 Valve V8 Factory Engine Rebuild Manual | PDF Download
Toyota 2UZ-FE 4.7 Litre DOHC 32 Valve V8 Factory Engine Rebuild Manual | PDF Download
Over 600 pages of detailed easy to follow step by step instructions for the home mechanic or professional Technician.
Engines covered:
Toyota 2UZ-FE 4.7 Litre 32 Valve V8 Engine

Manual covers the following topics

2UZ-FE ENGINE

DIAGNOSTICS

ENGINE

DIAGNOSTIC TROUBLE CODE CHART
PROBLEM SYMPTOMS TABLE
CIRCUIT INSPECTION

ENGINE MECHANICAL

CO/HC
COMPRESSION
VALVE CLEARANCE
IGNITION TIMING
IDLE SPEED
TIMING BELT
CYLINDER HEAD
ENGINE UNIT
CYLINDER BLOCK

EXHAUST SYSTEM
EMISSION CONTROL

EMISSION CONTROL SYSTEM
PARTS LAYOUT AND SCHEMATIC DRAWING
POSITIVE CRANKCASE VENTILATION (PCV) SYSTEM
EVAPORATIVE EMISSION (EVAP) CONTROL SYSTEM
THREE-WAY CATALYTIC CONVERTER SYSTEM

SFI FUEL SYSTEM

SFI SYSTEM
FUEL PUMP
FUEL PRESSURE REGULATOR
INJECTOR
FUEL TANK AND LINE
MASS AIR FLOW (MAF) METER
THROTTLE BODY
EFI MAIN RELAY
CIRCUIT OPENING RELAY
FUEL PUMP RELAY
FUEL PUMP RESISTOR
VSV FOR VAPOR PRESSURE SENSOR
VSV FOR CANISTER CLOSED VALVE (CCV)
ENGINE COOLANT TEMPERATURE SENSOR
VAPOR PRESSURE SENSOR
KNOCK SENSOR
HEATED OXYGEN SENSOR
ACCELERATOR PEDAL POSITION SENSOR
ENGINE CONTROL MODULE (ECM)
FUEL CUT RPM

COOLING

COOLANT
WATER PUMP
THERMOSTAT
RADIATOR

LUBRICATION

OIL AND FILTER
OIL PUMP
OIL COOLER
IGNITION
IGNITION SYSTEM
IGNITION COIL
CAMSHAFT POSITION SENSOR
CRANKSHAFT POSITION SENSOR

STARTING

STARTING SYSTEM
STARTER
STARTER RELAY
ACC CUT RELAY

CHARGING

CHARGING SYSTEM
ON-VEHICLE INSPECTION
GENERATOR
Please note, you are purchasing a PDF copy of this Factory workshop manual.


File Format: PDF 
Compatible: All Versions of Windows & Mac 
Language: English 
Requirements: Adobe PDF Reader
Images used are for promotional purposes only.
Copyright©Car Manuals Direct
---
Share this Product
---
More from this collection