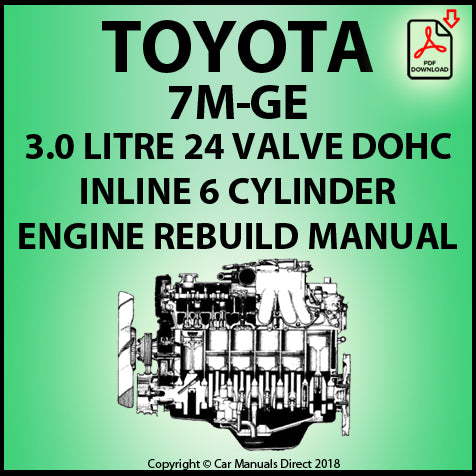 Toyota 7M-GE 3.0 Litre DOHC 24 Valve Inline 6 Engine Rebuild Manual | PDF Download
---
Toyota 7M-GE 3.0 Litre DOHC 24 Valve Inline 6 Factory Engine Rebuild Manual | PDF Download
Toyota 7M-GE 3.0 Litre DOHC 24 Valve Inline 6 Factory Engine Rebuild Manual | PDF Download
Over 350 pages of detailed easy to follow step by step instructions for the home mechanic or professional Technician.
Engines covered:
Toyota 7M-GE 3.0 Litre DOHC 24 Valve Inline 6 Engine

Manual covers the following topics 

7M-GE Engine

Description
Troubleshooting
Engine Tune-up
Idle and/ or 2,500 RPM HC/CO Concentration Check Method
Compression Check
Timing Belt
Cylinder Head Rebuild
Cylinder Block Rebuild

Exhaust System
Emission Control System

System Purpose
Component Layout & Schematic Drawing (7M-GE)
Positive Crankcase Ventilation )PVC) System
Fuel Evaporative Emission Control (EVAP) System
Dash Pot (DP) System
Exhaust Gas Recirculation (EGR) System (7M-GE)
Three-Way Catalyst (TWC) System

EFI System

System Description
Precautions & Inspection Precautions
Troubleshooting
Diagnosis System
Troubleshooting with Volt/Ohmmeter (7M-GE)

Fuel System

Fuel Pump
Cold Start Injector
Fuel Pressure Regulator
Injectors
Fuel Tank & line
Air Induction System
Air Flow Meter (7M -GE)
Throttle Body
Idle Speed Control (ISC) Valve
Electronic Control System
Location of Electronic Control Parts
EFI Main Relay
Circuit Opening Relay
Solenoid Resistor
Cold Start Injector Switch
Water Temperature Sensor
Fuel Pump Relay & Resistor
EGR Gas Temperature Sensor (California Vehicles only)
Oxygen Sensor
Sub-Oxygen Sensor (California Vehicles only)
Electronic Controlled Unit (ECU)
Fuel Cut RPM

Cooling System

Description
Troubleshooting
Check & Replacement of Engine Coolant
Water Pump
Thermostat
Radiator

Lubrication System

Description
Troubleshooting
Oil Pressure Check
Replacement of Engine Oil & Oil Filter
Oil Pump
Ignition System
Precautions
Troubleshooting
Ignition System Circuit
On-vehicle Inspection (7M-GE)
Distributor (7M-GE)

Starting System

Troubleshooting
Starter
Starter Relay
Clutch Start Switch (MIT)

Charging System

Precautions. Troubleshooting & On Vehicle Inspection
Alternator
File Format: PDF 
Language: English 
Print: Print the complete manual or just the pages you require  
Bookmarked: Bookmarked for easy navigation
Requirements: We recommend using Adobe PDF Reader for best results 
Device: We recommend downloading to a PC or Laptop or visit our Download Help Page for further information regarding Smart Devices
Images are Copyright©Car Manuals Direct and are used for promotional purposes only.
Copyright©Car Manuals Direct 2018
---
Share this Product
---
More from this collection