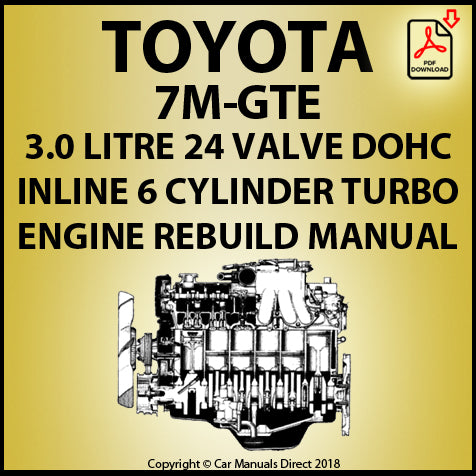 Toyota 7M-GTE 3.0 Litre DOHC 24 Valve Inline 6 Turbo Complete Engine Rebuild Manual | PDF Download
---
Toyota 7M-GTE 3.0 Litre DOHC 24 Valve Inline 6 Turbo Factory Engine Rebuild Manual | PDF Download
Toyota 7M-GTE 3.0 Litre DOHC 24 Valve Inline 6 Turbo Factory Engine Rebuild Manual | PDF Download
Over 350 pages of detailed easy to follow step by step instructions for the home mechanic or professional Technician.
Engines covered:
Toyota 7M-GTE 3.0 Litre DOHC 24 Valve Inline 6 Turbo Engine

Manual covers the following topics 

7M-GTE ENGINE

Description
Troubleshooting
Engine Tune-up
Idle and/ or 2,500 RPM HC/CO Concentration Check Method
Compression Check
Timing Belt
Cylinder Head Rebuild
Cylinder Block Rebuild

Exhaust System
Turbocharger System

Description
Precautions
Troubleshooting
Turbocharger

Emission Control System

System Purpose
Component Layout & Schematic Drawing (7M-GTE)
Positive Crankcase Ventilation )PVC) System
Fuel Evaporative Emission Control (EVAP) System
Dash Pot (DP) System
Exhaust Gas Recirculation (EGR) System (7M-GTE)
Three-Way Catalyst (TWC) System

EFI System

System Description
Precautions & Inspection Precautions
Troubleshooting
Diagnosis System
Troubleshooting with Volt/Ohmmeter (7M-GTE)

Fuel System

Fuel Pump
Cold Start Injector
Fuel Pressure Regulator
Injectors
Fuel Tank & line
Air Induction System
Air Flow Meter (7M-GTE)
Throttle Body
Idle Speed Control (ISC) Valve
Electronic Control System
Location of Electronic Control Parts
EFI Main Relay
Circuit Opening Relay
Solenoid Resistor (7M-GTE)
Cold Start Injector Switch
Water Temperature Sensor
Fuel Pump Relay & Resistor
Fuel Pressure Control System (7M-GTE)
EGR Gas Temperature Sensor (California Vehicles only)
Oxygen Sensor
Sub-Oxygen Sensor (California Vehicles only)
Electronic Controlled Unit (ECU)
Fuel Cut RPM

Cooling System

Description
Troubleshooting
Check & Replacement of Engine Coolant
Water Pump
Thermostat
Radiator

Lubrication System

Description
Troubleshooting
Oil Pressure Check
Replacement of Engine Oil & Oil Filter
Oil Pump
Oil Cooler & Relief Valve (7M-GTE)

Ignition System

Precautions
Troubleshooting
Ignition System Circuit
On-vehicle Inspection (7M-GTE)
Distributor (7M-GE)
Cam Position Sensor (7M-GTE)

Starting System

Troubleshooting
Starter
Starter Relay
Clutch Start Switch (MIT)

Charging System

Precautions. Troubleshooting & On Vehicle Inspection
Alternator 
File Format: PDF 
Language: English 
Print: Print the complete manual or just the pages you require  
Bookmarked: Bookmarked for easy navigation
Requirements: We recommend using Adobe PDF Reader for best results 
Device: We recommend downloading to a PC or Laptop or visit our Download Help Page for further information regarding Smart Devices
Images are Copyright©Car Manuals Direct and are used for promotional purposes only.
Copyright©Car Manuals Direct 2018
---
Share this Product
---
More from this collection